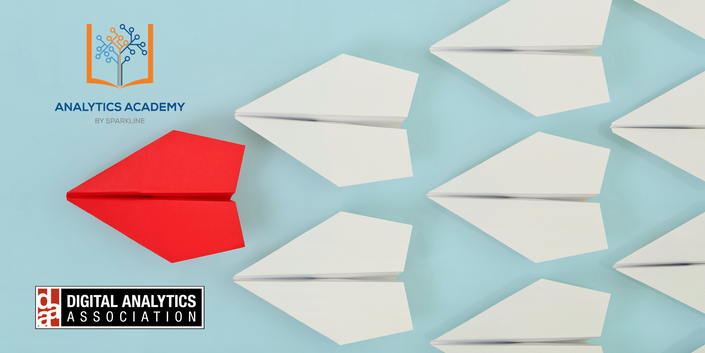 Media Measurement and Programmatic
Essentials in Media Measurement, covering topics such as Search and Display through to Video and Mobile Measurement ending with, 'Programmatic 101'.
By Analysts for Analysts, this program brings you the most relevant knowledge to develop and accelerate your skills!
Initially developed as a 4-year program for Google to train graduates to become digital analysts.
Sparkline ran and evolved the program to align to the Digital Analytics Association competency framework, ensuring it covered all the necessary business applicable tools and techniques to kick start an Analytics Career.
This is one module in the entire curriculum for you to 'pick and mix' what tools/techniques are most relevant for you!
Our previous stats speak for themselves, with 100% employment opportunities and offers, entry level salaries at 16% above average, and 100% of participants recommending the course to others.
Google's feedback:
"The Sparkline team have been great partners to Google in delivering the SquaredData program, a flagship example of public-private sector upskilling for Singapore in the areas of data and analytics over the last 4 years "
Joanna Flint, Managing Director, Google
Anywhere, Anytime learning to bring a proven curriculum to ANYONE passionate about being an Analyst. Experience practical active learning, real world examples from businesses, quizzes, cheat sheets and interviews from Analysts and industry professionals on why these roles are so important to today's businesses.
We are not a training company, but rather an analytics company that trains global businesses and people. want to empower anyone passionate about the space to access content that will nurture these crucial skills, in practical, accessible and cost effective ways.
We hope this helps you in the stepping stone to a fabulous Data Driven Career xx
The Curriculum
1.1 Search & Display

1.1.a SEO
1.1.b SEM
1.1.c Search Measurement
1.1.d Display
1.2 Social
1.2.a Social
1.2.b Social Measurement
1.2.c Social Metrics
1.3 Video
1.3.a Video
1.3.b Video Measurement
1.3.c Video Metrics
2.1 Mobile
2.1.a Mobile
2.1.b Mobile Messaging
2.1.c Mobile Web & Apps
2.1.d Beacon & Location for Apps
2.2 Mobile Measurement
2.2.a Mobile Measurement
2.2.b Mobile Measurement Overview
2.2.c Mobile Measurement Acquisition
2.3 Mobile Measurement Evaluation
2.3.a Mobile Measurement Evaluation 1
2.3.b Mobile Measurement Evaluation 2
2.3.c Mobile Measurement Evaluation 3
2.4 Mobile Measurement Purchase
2.4.a Mobile Measurement Purchase 1
2.4.b Mobile Measurement Purchase 2
3.1 DoubleClick
3.1.a DoubleClick
3.1.b DoubleClick Integrations
3.1.c DoubleClick Use Cases
3.2 Demand Side & Data Management Platform
3.2.a Demand Side Platforms
3.2.b The Structure of a DMP
3.2.c Why Use a DMP?
Funding Under Union Training Assistance Programme ("UTAP")
UTAP is a training benefit for NTUC members to defray the cost of training. This benefit is to encourage more union members to go for skills upgrading.
NTUC members enjoy 50% unfunded course fee support for up to $250 each year when you sign up for courses supported under UTAP (Union Training Assistance Programme).
For more information, please visit https://e2i.com.sg/individuals/ntuc-education-and-....